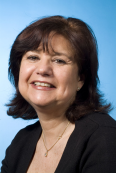 Luisa Mearin (MD, PhD)is paediatric gastroenterologist and Associated Professor of Paediatrics at the
University
of
Leiden
and leads the Unit of Paediatric Gastroenterology of the Leiden University Medical Center (LUMC) and the
Free
University
Medical
Center
(Vumc) at
Amsterdam
. She is a member of Board of the Dutch Society of Pediatrics (NVK) and member of the European Society for Paediatric Gastroenterology, Hepatology and Nutrition (ESPGHAN), co-ordinates the ESPGHAN working group on "
New
strategies for prevention and treatment of coeliac disease
" and is member of the working group on "New diagnostic criteria for childhood celiac disease". Her ambition is to improve the health and quality of life of sick children, especially of these with gastrointestinal diseases, including celiac disease. Since then she has been actively involved in research on gastrointestinal diseases in childhood, including the epidemiology, immunology, genetics, treatment, prevention, complications and quality of life in celiac disease. She has a long experience in the diagnosis and treatment of children with coeliac disease and their families.
Luisa Mearin has coordinated several national and international collaborative studies on celiac disease, among them EU funded projects , the "European multicentre study on coeliac disease and non-Hodgkin lymphoma". performed in 10 European countries (Biomed 2 Programme 1996; BMH4-CT98-3091; DG 12-SSMI) and the European platform for research on prevention and treatment of coeliac disease: a multidisciplinary approach to integrate basic scientific knowledge in clinical applications and food industry CDEUSSA; FP6 - contract FOOD-ct-2005-517787) (2005-2007). The last project has formed a European platform for research on prevention and treatment of coeliac disease with a multidisciplinary approach and has developed evidence based advice for the EU over the aspects of celiac disease that should be topic of research.