Biography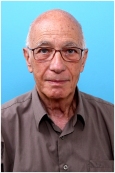 Professor (emeritus) Moshe Berant (MD) is Chairman of the Investigational Review Board of the Rambam
Medical Center in Haifa, Israel. Until his retirement in 1999, he was Director of Pediatrics at Rambam Health Care Campus and Chairman of Pediatrics at the Technion-Israel Institute of Technology Faculty of Medicine. Professor Berant is certified in Pediatrics and in Pediatric Gastroenterology and Nutrition, and spent sabbatical years as Visiting Research Professor at the pediatric gastroenterology units of North Shore University Medical Center (Cornell Univ.), NY, USA, and of the Institute of Child Health (University College), London, UK.
Professor Berant serves as Ethical Advisor to the PreventCD project, and is also involved in ethical issues associated with biomedical research projects in several countries. Professor Berant is member of the Israel Pediatric Gastroenterology and Nutrition Society, the European Society of Gastroenterology, Hepatology and Nutrition, the American Society of Pediatrics, and has played a significant role in medical education and of medical training. His major clinical and research contributions address the impact and the pathophysiology of malnutrition, small intestinal mucosal function, bile salt metabolism and inborn errors of metabolism.
Professor Berant is member of the National (Israel) Steering Committee for Ethics of Biomedical Research and regularly leads courses and workshops on GCP subjects.